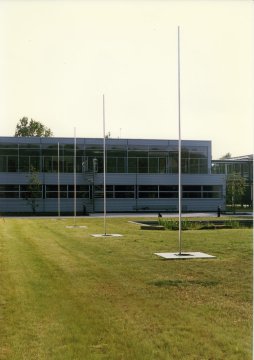 1994
H 6.0 m / W 1.2 m / D 1.2 m
Inner courtyard of Halle Department of Works, Technische Werke Osning GmbH
Seven spherical, stainless steel buoyancy structures float in stainless steel containers let into the ground and filled with water. Each buoy supports an aluminium pole six metres high, which, in the absence of wind, maintains a vertical position. Their floating state makes the masts highly sensitive in their poise, and they react to the slightest currents of air.