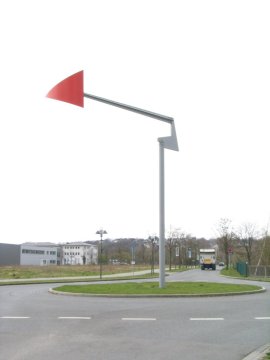 2006
H 13.0 m / W 9.0 m / D 9.0 m
Gewerbe- und Landschaftspark Henrichshütte Hattingen, Stiftung für Kunst, Kultur und Denkmalpflege der Sparkasse Hattingen
The sculpture, Die Kenntnis der einzuschlagenden Richtung is a system which responds kinetically to the wind. A sail, which stands obliquely to the centre of the swivelling construction, gives way in a forward motion to any pressure from wind, seeking the path of least resistance until, at a certain angle, wind forces striking it from the front and the side are in equilibrium. In this position, the system is in a state of 'sailing hard on the wind', in its way an expression of the perfect oneness of the wind as a force of nature and human inventive spirit exploiting the laws of nature. Thus, in contrast to a vane, which always aligns its surface passively with the wind pressure, this sculpture responds to the wind in an 'active' way, comparable to a yacht or a kite. If the wind turns, the equilibrium of forces collapses and the system finds stability in a new position. The conspicuous colouring highlights the crucial function of the sail at the interface of technical construction and natural forces.